Famous Yoga Teacher Training School in India
If you are looking for an affordable and qualitative Yoga School in Rishikesh, then Rishikesh Yoga Studio offers a Yoga Alliance accredited school that works with the belief system of teaching yoga in its most authentic form. That means that our Yoga Teacher Training is inspired by the traditional Indian Ashram (hermitage) method.
We cater to the needs of each type of learner by providing a deeper understanding of theoretical knowledge of yoga and by encouraging continuous practice sessions that deepen the knowledge and practical application of yoga in each and every student who completes a course in our school. We have also inculcated the 5 elements in our yoga teachings which help to provide a root level understanding of yoga to our participants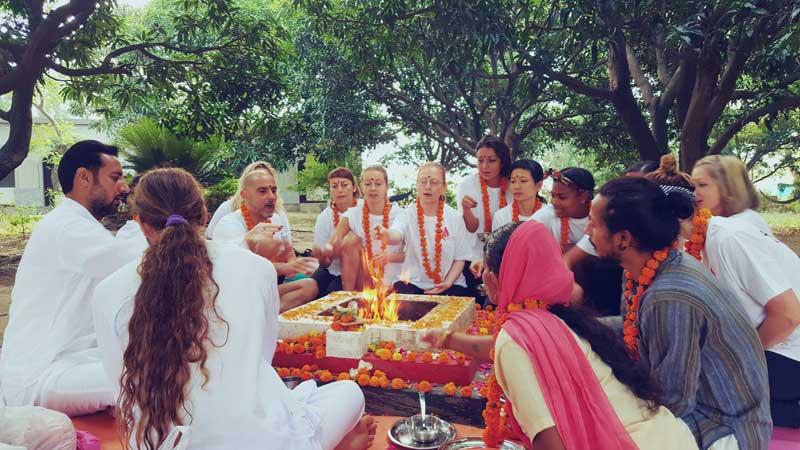 Yoga School – Why Choose RYS?
Nestled between the foothills of the Himalayas, our school was founded by yogis and mystics who gained their understanding and wisdom over years of meditation and practice of yoga. We teach traditional yoga along with the principles of Naturopathy by combining the 5 elements viz. Earth, Water, Air, Fire, and Space.
Our belief system heavily relies on the unification of these 5 elements with your yoga practice that eventually leads you to take your practice to a higher and deeper level. We don't just focus on yoga as a physical practice but also on the philosophy of yoga in an individual's life. And all these teachings are imparted by a pool of highly experienced teachers who teach by example and patience.

Find The Best Yoga School in India
We are equipped to conduct the most authentic and rewarding yoga teacher training course for every individual. Our Yoga School is located at the best location. We have an experienced team of teachers, the living is simple and clean and our 200 Hour Yoga Teacher Training in Rishikesh is designed in the most simplified way to suit participants of all levels.
Our Belief System – Rishikesh Yoga School
Yoga stands for the union of the body and soul, the harmony between one's inner and external self. Hatha yoga is about balancing the energy around us while Vinyasa is the natural flow of energy in our body. We have combined these 2 basic principles resulting in our Yoga Teacher Training in Rishikesh, India.
In Rishikesh Yoga Studio, we follow a structured flow of teaching, in which we equip our students with the basics of yoga, moving on to empowering them with adjustment skills and restorative yoga.
Asana practice along with correct alignment is the fundamental part of our training. We teach the importance of breathing while practicing asanas. Meditation or Dhyana is another vital subject in our course. We teach different techniques to harness the force of our mind or Chitta.
We consider our 200-hour YTTC as a complete transformational retreat, which is why we take care of every need of our students. Food is an important part of the regime, the meals that we serve are nutritious and healthy.
Join Our Rishikesh Yoga School
Once you join our Yoga School in Rishikesh, it's just not an alliance formed only for the training duration but it's a bond formed forever. We don't just teach yoga or meditation, but we also help rejuvenate our students with a fresh perspective on life. In our attempt to create authentic yogis, we also want to develop a healthy mindset along with a peaceful and happy soul.
Yogi Chandrakant ji with Swami Yog Kulwant ji