Rishikesh Yoga Studio - The Famous School of Yoga Teacher Training in Rishikesh, India
Rishikesh Yoga Studio is one of the most upcoming popular Yoga schools in Rishikesh, India. The school was founded by Indian yogis and mystics who after years of meditating and practicing yoga wished to create a unique space where they combine traditional yogic wisdom with the understanding of the 5 elements in the most simplistic way through their own personal experimental experiences and rigorous spiritual practices. We have tried to create a safe and playful ambiance so that it plays a crucial role in this overall training experience.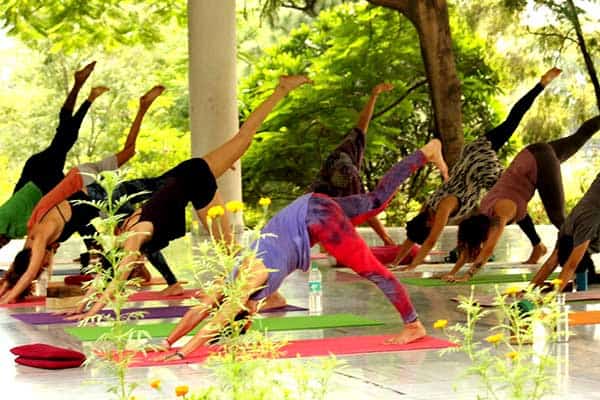 One of our most popular programs is the 200 Hour Yoga Teacher Training in Rishikesh, which is duly accredited by Yoga Alliance, USA. We envision that our Yoga Teacher Training program will lay the foundation stone to your yoga teaching journey and deepen advance your Yoga practice. Since Rishikesh Yoga Studio covers many different subjects of yoga, you would feel acquainted with different layers of yogic science. At our school, the teachers are passionate about teaching yoga and keep everyone well motivated so that students build up enough self-confidence that helps them to find their own unique expression as an inspiring yoga teacher.  In the past few years, we have had a number of seekers of truth and yogic life, who have joined the courses and Yoga Retreats conducted by the School.
We specifically decided to choose Rishikesh as our prime location because when you set foot in this ancient city of Rishikesh in the foothills of the Himalaya, you realize that Yoga is the overall way of life here and there are limitless possibilities for a person to grow in their inner journey.
We will also be introducing you to a natural yogic lifestyle which helps and inspires you to go deeper in understanding the science of yoga. We have specifically designed retreats and courses where one not only learns about yoga, meditation, and 5 elements detox but it is also supplemented with delicious quality nutrition within a beautiful, peaceful, and green surroundings that help in your transformation. Our goal is to create a safe homely environment that allows you to be yourself and feel revitalized and relaxed.