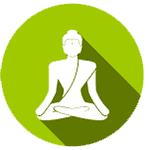 Yoga Retreats in Rishikesh - Rishikesh Yoga Studio
Yoga Retreats in Rishikesh serves to refresh and rejuvenate the mind, body, and soul in a fun and enjoyable way. These short getaways in Rishikesh usually last up to a week or two, offering participants a much-needed respite from their mundane routine lives. They make a typical holiday detox trip more meaningful and satisfying as well. Our 200 Hour Yoga Teacher Training in Rishikesh is usually centered around Naturopathy along with Yoga, meditation, and pranayama allowing enthusiasts to gain more insights into this native science of well-being, while also enabling them to experience the Yogic way of life and its benefits, even if for a very short time.
Yoga Retreat in Rishikesh – What to Expect?
Participants signing up for a Yoga Retreat in Rishikesh can expect to experience a great mix of Yoga practice and sightseeing as well. A typical agenda includes theory and practice sessions of Yoga, visits to nearby temples and ashrams, outdoor camps and classes on the banks of the mighty Ganges River, Ayurveda therapies, and meditation sessions as well.  Food and accommodation arrangements are also part of the program, while pick and drop from the nearest transport hub is usually arranged on request, for a nominal fee.
Detox Yoga Retreat in India
While these retreats are designed to be comfortable and purposeful, participants are offered just basic accommodation, often single /twin sharing basis, and easily digestible organic vegetarian meals that power and nourish the body throughout the duration of the Yoga Retreat in India.
Open-air theory and practice sessions conducted in the spectacularly scenic settings of Rishikesh, nestled snugly in the lap of the mighty Himalayas induce a sense of freedom and joy of being one with nature.  Rishikesh has been the haunt of several sages, ascetics, and yogis for ages now. Their simple ways of life, respect for nature, and other gods and spiritual pursuits have created a unique, soothing, and positive environment that is most ideal to pursue the practice of Yoga.  Yoga Teacher Training in Rishikesh, therefore, is special and more effective, irrespective of whether a whirlwind retreat or months of committed training.
Signing up for Rishikesh Yoga Studio opens up opportunities to reinvent yourself, clear your head, nourish body and soul, make new friends with common interests and enjoy a great holiday at a spiritual hub!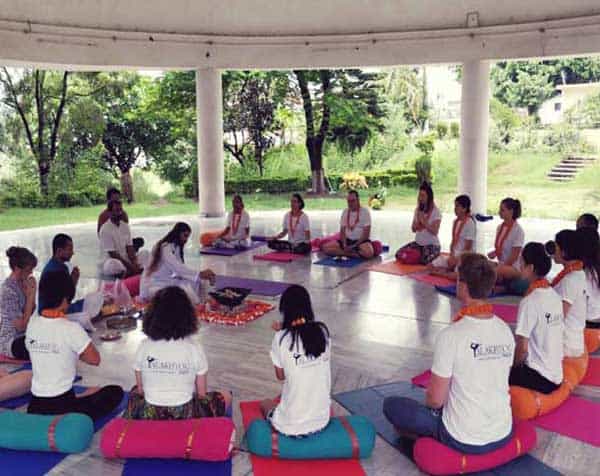 Daily Schedule for Yoga Retreat in Rishikesh
Time
Activity
6.30 am
7.30 am
   Kriyas (Body Cleansing)
8.00 am
9.00 am
   Pranayama and Asana Practice Class
9.00 am
9.30 am
   Naturopathy Treatment
9.30 am
10.00 pm
   Breakfast and Rest
10.30 am
1.00 pm
   Theory Class: Emotional Blockage/Naturopathy
1.00 pm
4.00 pm
   Lunch and Rest
4.30 pm
6.00 pm
   Evening Asana Practice Class
6.00 pm
7.00 pm
   Meditation
7.00 pm
8.00 pm
   Dinner