Yoga Alliance Certified Yoga Teacher Training in Rishikesh India
Yoga Teacher Training in Rishikesh India is only for you If your heart calls out to be a yogi, but you are not aware of the way of transforming from a yoga lover to a full-time yoga teacher, then you are at the right place. First and foremost, you have to become definite on your skills and mindset before you begin your yoga business. Since yoga has gained popularity in the last decade, you will find yoga classes in every corner, however, to find your soul you need to witness the real yogis, the yogis of India. India is the spiritual home of yoga, and if you wish to pursue the art as a full-time endeavor it is important that you make the primal connection with its roots. When you become a yoga teacher, you will become an authentic spiritual teacher and hold the power of changing the world. In India, you will completely surrender yourself to the yoga culture and will be able to concentrate completely on the new path of your life. To learn yoga is one thing but to learn the traditions and philosophies of yoga from those who have learned from the very roots is an entirely different experience. So choose a Yoga School in Rishikesh and begin your career.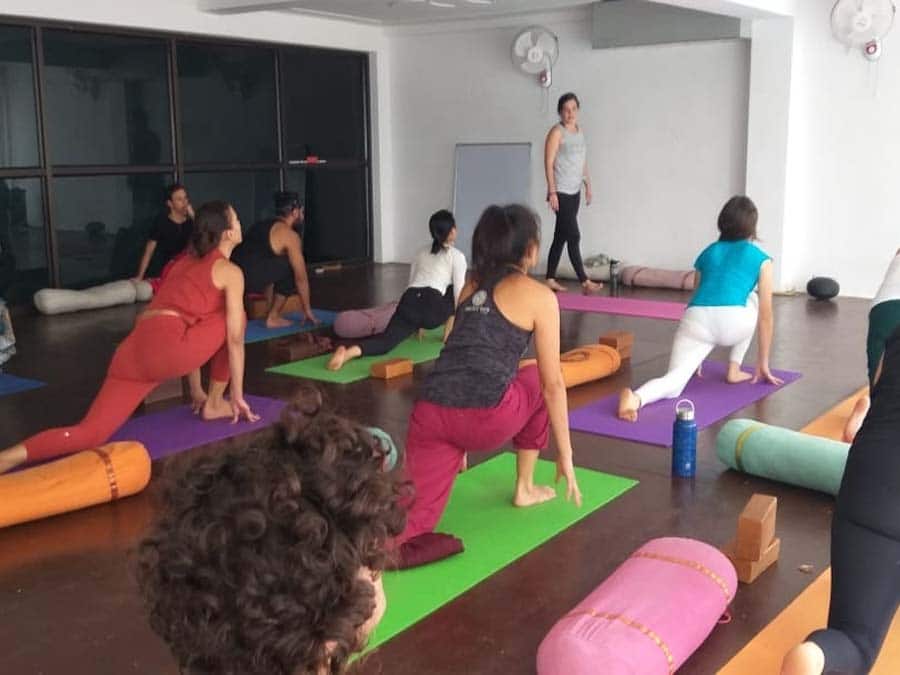 Aims & Objectives - Rishikesh Yoga Studio
Yoga education has proved to be a supplement to university or school education. It has given students mental and physical strength and integrated their mental, physical, and spiritual areas to make them more fit, stable and calm individuals of the society and the country.
Self-discipline and self-control are the two gifts that Yoga gives to us. This gift of self-discipline and self-control helps us in being more aware, concentrated, and conscious. Briefly stating, Yoga has the following aims and objectives-
To provide good health to the practitioners.
To provide a better mental state
To provide emotional stability.
To provide a sense of moral values
To provide more consciousness.
Yoga is one method to attain several goals. It does not just exercise or poses or art, it is a way of living life. Yoga Instructors educate us on how to be in our control. It helps us build our personality by adding the required qualities and eliminating unnecessary elements. By doing Yoga one can achieve a state of calm in even the most stressful situation. It also develops our senses, so that we discriminate better between the good and the bad things. Thus, by practicing the art of Yoga one can be in a state of bliss even in the most difficult poses.

Why Yoga Alliance for Yoga Teacher Training Course?
When we hear the word Alliance, we picture a community of people, groups, or states that have come together for a common benefit or to accomplish some common goal. Yoga Alliance is no different. It is the largest nonprofit association of the Yoga community. The number of Registered Yoga Schools (RYS) under this alliance is over 7000 and there are more than 100,000 Registered Yoga Teachers (RYT) as of April 2020. Yoga alliance aims to support premium quality, secure, easy to access, and impartial teaching of Yoga.
History of Yoga Alliance
Yoga Alliance has formed almost 20 years ago and it still has the potential to reach more and more heights. Though it began humble, the Yoga Alliance is now the largest international nonprofit association in the yoga community. Major areas of work and goals of Yoga alliance:
Practice and improvement of various yoga styles, lineages, and traditions.
Providing worldwide access to premium quality, secure, correct yoga practices;
Maintaining the growth and spreading awareness of yoga throughout the world in the form of education;
Spreading proper yoga instructions through quantitative standards and an ethical commitment, which comprises of code of conduct, the responsibility to equity in yoga, and a novel scope of practice;
To serve the community by giving tools of growth and development, benefits, and resources and information which also includes COVID-19 and Social Justice;
Promoting accountability by motivating members to give honest and complete feedback on RYSs;
Advocating the protection of the yoga community from unfair or unnecessarily burdensome patents, government regulation, or taxation.
To provide yoga schools and yoga teachers with business practices that are effective in achieving success.
Best Yoga Teacher Training in Rishikesh India
Taking a Yoga course from just any place can result in serious consequences considering the challenging nature of it. This is the reason that the YTTC is considered to be the best in India. Rishikesh is the place of origin of Yoga and therefore holds Yoga in its sole form. The Yogis of Rishikesh is known to possess the roots of Yoga and therefore taking up a yoga teacher training course (YTTC) in Rishikesh, India is the wisest decision. Rishikesh is a place close to nature that provides a peaceful environment that makes the learning of Yoga far more easy and impactful. When you take up a yoga teacher training course, you are filled with a sense of Authenticity and the right motivation. Rishikesh has given many great Yoga teachers to the world and still holds the power to provide many more, one of which can be You. So do not think twice when it comes to taking a YTTC at Rishikesh because Rishikesh to Yoga is like mountains to glaciers or Temple to God. It is the right place and can provide you the right direction to attain the right goal.
100 Hrs Yoga Teacher Training Course
100 hour Yoga teacher training program is a certified course. The course is designed to fulfill the needs of all individuals who want to explore Yoga in a limited time. The course aims to spread awareness of Yoga and provide ground knowledge of the range and depth of Yogic principles and lifestyle. So whether you are aspiring to become a professional yoga teacher or looking to have a better understanding of Yoga, the course will guide you. The experience is enriching and along with learning a new way of life you will enjoy the course pretty much while you learn. It will be an unforgettable experience. The short yet impactful course will surely make a difference in your lives. The course takes place in the beautiful surroundings of Rishikesh which sets the right mood and energy for such an enriching experience. So if you are someone who wishes to explore the Yoga world but is bound by time then the 100 hour Yoga teacher training program is the solution to all your problems. Don't waste any more time and enroll yourself in the program of 100 Hour Yoga Teacher Training Course in Rishikesh, India.
200 Hrs Yoga Teacher Training Course
More popularly known as intensive Yoga courses, the 200 Hour Yoga Teacher Training Course in Rishikesh covers all the aspects of hatha yoga, hatha yoga in ashtanga, or Iyenger yoga style. The course is carefully designed to cover all the aspects in a short duration but in an impactful way. All those who are interested in beginner and intermediate level Yoga can opt for the 200 Hour Yoga Teacher without any hesitation.
The course offers excellent theoretical and ground knowledge of becoming a Yoga teacher and has all the elements needed to transform a common man into an inspirational Yoga teacher. So if you are filled with a desire of becoming a master of yoga and you are short on time, 200 hrs yoga teacher training course (YTTC) in Rishikesh India is designed especially for you
300 Hrs Yoga Teacher Training Course
As compared to the 200 hours and 100 hour Yoga teacher training program, the 300 hour Yoga teacher training program offers a far detailed and extensive course. Any Yoga practitioner who possesses beginner-level knowledge of Yoga can take up a deeper dive into the art by joining the 300-hour yoga teacher training course. The 300 Hrs Yoga Teacher Training Course is designed to fill the practitioner with advanced Yoga teaching skills. The knowledge of more complex realms of Yoga is explored which makes the practitioner more and more confident about his practice and the practitioner is slowly transformed into a better and more confident Yoga teacher over time. So if you are looking to develop your skills as a yoga guru and want to take your knowledge to the next level you must surely take up the 300 hrs yoga teacher training program without wasting any more of your crucial time.
500 Hrs Yoga Teacher Training Course
The 500 Hour Yoga teacher training program is designed to provide the complete spectrum of the Yoga Alliance certified yoga teacher training course. Reaching every root of yoga and every peak of it, the course is designed to leave no stone unturned to your transformation into a complete Yoga teacher. The 500 Hour Yoga Teacher Training Program offers each and every bit of knowledge that is essential for the practitioner to become a Yoga teacher. All those who complete the 500 hrs yoga teacher training course are eligible to apply for yoga teaching as a certified RYT-500 teacher (Registered Yoga Teacher) and this certification course is enough to provide you with great opportunities in your path to becoming a great Yoga teacher. The course is an intensive training program that comprises knowledge of Mudras, physiology, methodology and provides you with plenty of time for preparation. This course calls out to all those who do not want to miss even a single bit of knowledge needed to become a great Yoga practitioner.
Hatha Yoga Teacher Training Course (YTTC) in India
Rishikesh Yoga Studio teaches classical Hatha yoga in its purest form. These schools have the vision to promote the sacred science of Hatha Yoga and spread it to each and every individual. In order to achieve this goal, Yoga training schools in Rishikesh are offering Yoga teacher training courses in Hatha Yoga at affordable prices. In the course, Hatha yoga is taught in the most practical and simple ways in the most peaceful and positive environment. The main goal of the YTTC program is to create more and more individuals who have the capabilities of not only practicing Yoga but also teach it more and more. In this manner, Yoga will flourish all over the world and the world will become a much better place to live. The yoga teacher training is not just a course; it's an opportunity to transform your life and that of many others.
The course takes place in a specially created positively energized space where the knowledge of Hatha Yoga is transferred in the most amazing ways. Pursuing a Yoga Retreat in Rishikesh opens up occasions to reevaluate yourself, clear your head, feed body and soul, befriend basic intrigue, and appreciate an incredible occasion at a profound center point!. The program consists of powerful sadhanas, complete training to teach yoga asanas, and many more complimentary benefits. The program is created and conducted in a way that trainees not only become the Yoga teacher but also learn the yogic way of life. The certificate is provided to each trainee post the completion of the program, this certificate will enable the trainee to teach Hatha yoga professionally.
Yogi Chandrakant ji with Swami Yog Kulwant ji